Discover more from Volatile Weekly
Interviews in the music industry from around the world
Interview with PRTTY BOYS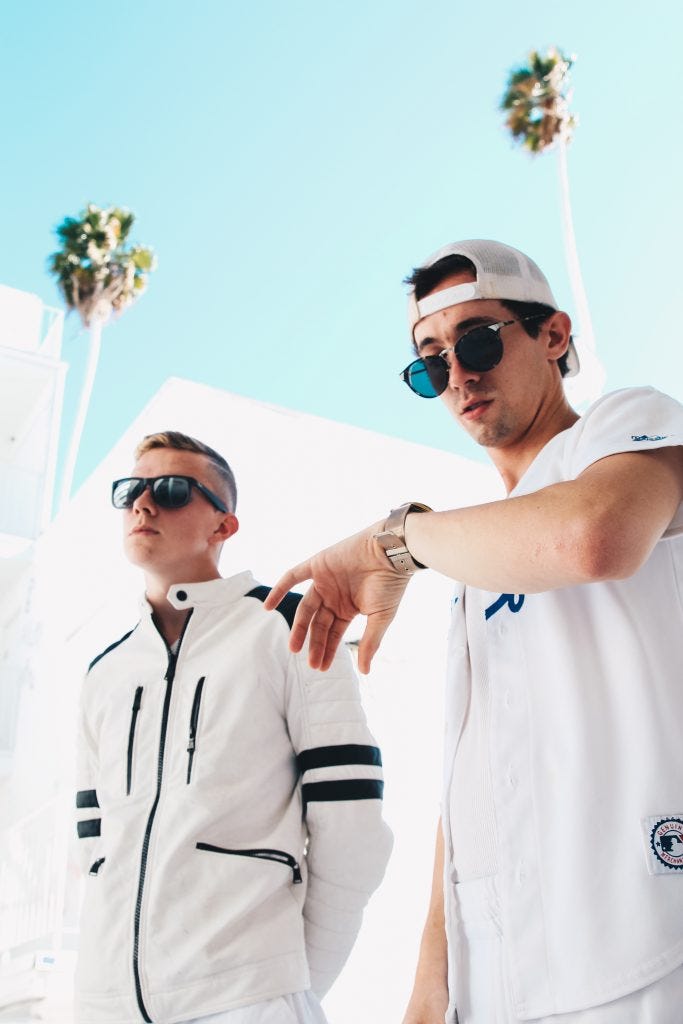 (Photo Credit: Christian Tachiera)
Prtty Boys took some time out to let me interview them, check it out:
From what I have read, you guys just released your new album "The Juice Factory" just this month. How long have you been working on the album?
Johnie B: About a year, though we had messed around with a potential mixtape before that.
What was the experience like putting the album together? How was it different from what you have done in the past?
Johnie B: We were both used to making all of the decisions in our solo productions. We had to come together but at the end of the day our collaborative process works to improve the final product. If a lyric could be tweaked we let each other know, if a synths too loud or not quite the right sound we say something. I feel more confident in the result because I know we've taken the time to dissect everything. That and we are able to divide up roles which makes it all a little easier.
I see that you two are both producers, what did you work on before PRTTY BOYS? In addition, how did that influence your duo?
Johnie B: I've done a lot of vocal producing for myself and other artists over the years, and I was in a pop punk band back in high school. From those experiences, I bring a lot of melodic, harmonic, and experimental vocal ideas with me.
Spaadez: I've been putting out music as a producer (mostly) for a little while. I have a few solo projects and some production for other artists. And I played drums in a rock/blues group called Redhouse before that.
What was it that brought you together to start the band?
Johnie B: I would call it more of a production duo. When I hear band I just immediately think guitars. Back at NYU, Spadez started working on a business plan for a label/production house called Pretty Music. We were roommates so he ran it by me, and I started talking about how we should move to LA after graduation around that same time. All the pieces started falling in place.  
Spaadez: Facts.
What is the process like writing and putting together your songs? 
Johnie B: Typically Spadez cooks up an instrumental, we come together on a concept and I start working out the hook, pass that back over to him and he continues to build out the track. Then he writes and records his verses, we mix and master, badabing.
Spaadez: BADABAM.
I see that the duo is based out of Los Angeles, how has that influenced your work?
Johnie B: You could listen to our music anywhere but it sounds best on any boulevard lined with palm trees either side.
Spaadez: New people. New places. New things. It all influences it.
Who and what inspires you to make your music?
Johnie B: We were both raised on 2000s hip-hop so that's an inspiration right there. And we've both made music most of our lives, I think we will always want to keep improving and show what we can do. That keeps me at it as well.
Spaadez: Anything and anyone really. It just depends what mood I'm in.
Outside of PRTTY BOYS what do you like to do and how does that help you with your creativity?
Johnie B: I work for a tech company in Marina Del Rey, that keeps me sharp. And I like to play soccer, travel, a little bit of photography, especially when exploring new countries. I definitely need to get away from it at times and experience new things. If you forget to live life as well you run out of things to write about.
Spaadez: Working out, learning new things, going out, producing for other artists. That way. Everything helps with the creativity.
Which songs are your most requested and which ones mean the most to you?
Johnie B: "Cop Car" seems to be a fan favorite, and was our first single so it may take people a little longer to discover tracks like "Real" and "Citrus." The one that means the most to me is "Take It Slow," which I produced on and features a sample of the windchimes from my Grandmother's back porch. I spent a lot of time there growing up.
Spaadez: "Citrus" for sure. I really can't pick just a few that mean the most. I spent a lot of time on all of them from start to finish. Late nights and early mornings tweaking little details; re-writing verses multiple times until it was the right one.
Have your toured outside of California? If so where have you been, if not where would a dream tour take you?
Johnie B: Had to have some music to perform before we started performing haha. But we'll do some shows soon. Would love to tour Europe one day.
Spaadez: Not yet but coming soon. Stay tuned.
If you were to put together a dream tour who would be on the ticket?
Johnie B: Cafuné, Justin Jesso, FLETCHER, Topaz Jones, Maggie Rogers, Phoebe Ryan, etc. etc. AKA the fam bam from NYU.
Spaadez: Rihanna. Justin Bieber. PRTTY BOYS.
What are your plans for the future, do you have anything that you want to spotlight that will be coming up?
Johnie B: Follow us @PRTTYMUSIC and be on the lookout for our next single that may or may not feature a certain dude with colorful cornrows and an MTV tattoo. I probably just described hella rappers these days but I'm referring to the OG.
Spaadez: Shows. New Single. More Tune.