Discover more from Volatile Weekly
Interviews in the music industry from around the world
Interview: Black Income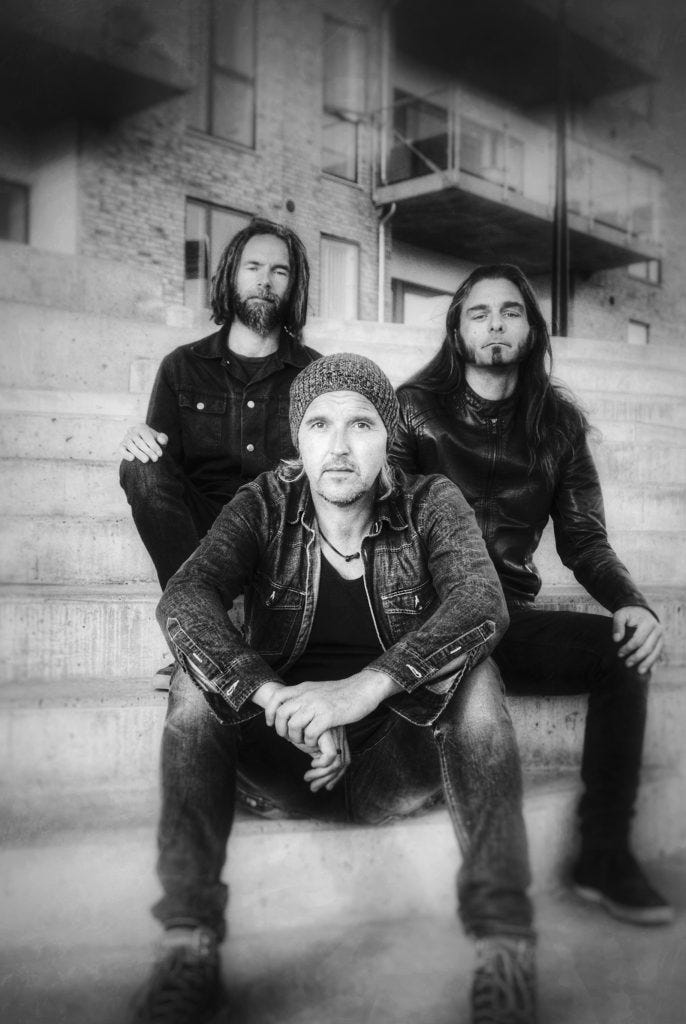 What got you into music, and if you had not gotten into music what would you be doing today? We have always played music since we were very little, and today we're setting up the gear and start jamming to get ready for the next shows.
What do you like to do when you're not playing music and how does that influence your creativity? Well, it's different… we like coffee .. but besides that, it's pretty different... Henrik plays a lot of music and work in a studio… to keep the creativity flowing we try not to think about it, and stay in the flow when writing new material.
How long has your band been around? We started out late 2011, so it's safe to say 2012
Where are you based out of and how did that influence your music? We're based in Fredericia Denmark, well the city got a great music life, many talented musicians come out of this city...
How did you come up with the name of your band and what does it mean to you. Ha Black Income… it started out as a funny name, to stir things a bit up on the taxes part.. haha .. but as the years went by it's grew to be a part of us… and latest with the synonym BLCK INCM...
Tell me about the best and worst shows you have played. The best show are the venues who take care of the musicians, the ones that get the fact, that the better you treat an artist before they hit the stage, the more energy you have on stage, and people get a better show…. on the worst part... Think of this one time years ago we played a gig, and the venue was responsible for the backline… and when we arrived there was basically nothing to plugin to… so that's when you learn to send out a proper Rider.. haha
Tell me about your favorite venue to play at, and do you have any places you want to play that you haven't already? There are so many great venues, all of them have their specialties … It's not only about the venue we think… when venue people and artist come together that's when the magic happens.
If you could play any show with any lineup who would be on the ticket? There is so many… Mastodon / Queens of the stone age and don't forget Tool...
What is some advice that you would give to someone who is just getting into playing in a band? Practice your art, use a proper studio to develop your sound, and don't take NO for an answer…
If you could go back in time and give yourselves advice, what would it be? Don't play free gigs, unless you gain some real PR for it… 1. You are undermining the music industry .. 2 Remember when no one is standing on stage, they don't sell any beers.. stand up to yourself, don't let anyone boss you around...
Of your songs which one means the most to you and why? From the new album, it's Loaded Gun, it tells quite a personal and heartfelt story.
Which songs are your favorite to play and which get requested the most? Must bee the Favorite Gasoline
What is the creative process for the band, and what inspires you to write your music? Normally it's our vocalist and guitarist Henrik, who writes the ideas before we take em to jam on...
What kinds of messages do you like to get across in your music? For us it's crucial to get the more Dark feelings out everyone has, we try to write the lyrics, people can reflect on...
Do you ever have disagreements in your band, and how do you get past them? Well in a band you cannot get thru the years without crossing swords once in a while, but we are good at sitting down and talk the things thru..
What are your plans for the future, and do you have anything that you want to spotlight that's coming up? We play only one release gig this year in Den, ark ( Tour in the plans for 2020), and later this year we start working on our 3'rd album... that's what we can reveal at the moment :)
Social Sites :
Website : http://www.blckincm.com
Facebook :https://www.facebook.com/blackincome
Instagram : https://www.instagram.com/blackincome/
Twitter : https://twitter.com/blckincm
Spotify : https://open.spotify.com/artist/5XzUUfJH9hTfcvjInSUytt