Discover more from Volatile Weekly
Interviews in the music industry from around the world
Interview: D. I. G.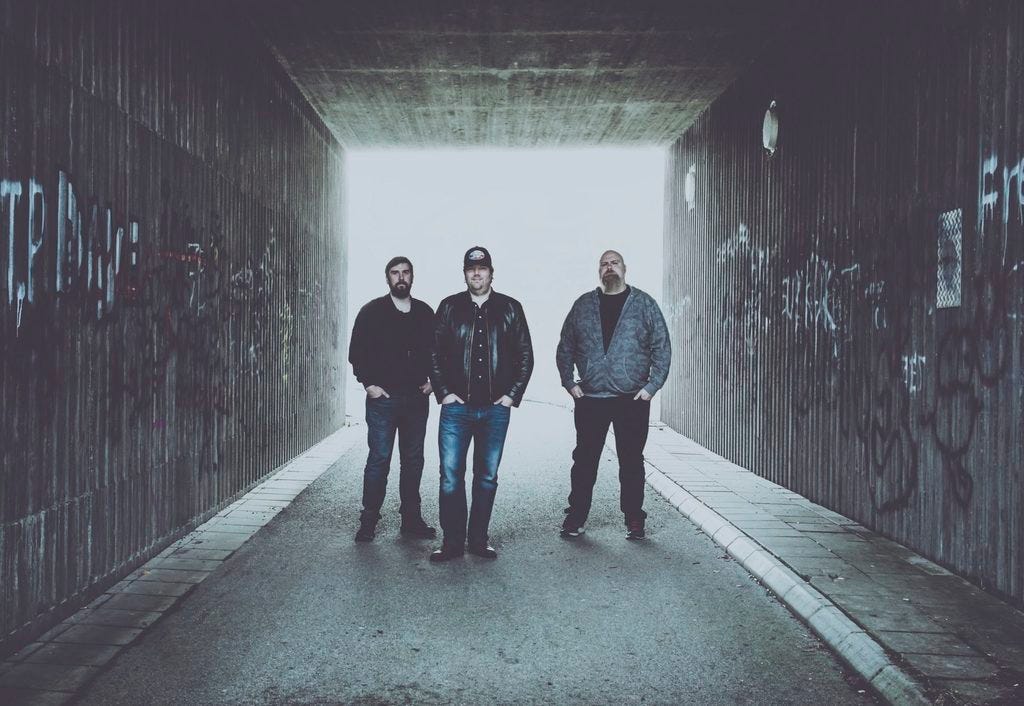 What got you into music, and if you had not gotten into music what would you be doing today?
Björn: I got into music since my father played guitar and exposed me to a lot of great 70,80´s rock when I was a kid. I started with drums at a young age and the switched to guitar. My music interest really started when I got into the band KISS! If I did something else, I would probably have my own bar and hang out with friends! 
Fredrik: I have always been drawn to music from my first toy keyboard to my parent's hifi. Don't know why the rest of my family is not that musical. If it weren't for music what would I do? I don't know..... drugs? Be depressed? Shouting at pigeons in the park? All of the above?
Jonathan: Thanks to my brothers and their interest in the band KISS, If I couldn't do music I would do something else that's creative like write books or making movies.
What do you like to do when you're not playing music and how does that influence your creativity?
When we don't play music we listen to music ;). Jonathan is a father to three daughters so a lot of family time there. Fredrik is the BBQ master, Björn just hangs around and try to get creative. We also drink a lot of beers, we are untapped fans! (beer app). The beer drinking might influence the music or at least the idea´s of music! Creative idea´s and more. But we try to stay as creative as possible and let life influence our music. 
How long has your band been around?
We been around since 2013! But this line-up with Jonathan on drums been together since 2019. Actually Björn and Fredrik been playing together since 2002 in different line-ups! Time flies so to speak.
Where are you based out of and how did that influence your music?
We are based in Sweden, in a small town called Bengtsfors. Bengtsfors is a really small town in the Swedish woods! And when the postal number begins with 666 you know that you need to play some hardrock! But Bengtsfors is a good place to be, we got a great studio and band HQ. I believe (Björn) that Bengtsfors influence our music in an ambient and free way! Make sense right… Close to nature and the freedom of being for yourself, go your own way.
How did you come up with the name of your band and what does it mean to you.
Well it's a combo of Christmas, party and beer. In Sweden there is a tradition when celebrating Christmas to eat "dopp i grytan", in English "Dipp in the pot" so on a wet night in the band HQ we thought to ourselves that if we put dots in the name to D.I.G it would be perfect! So well the meaning for us is just remembering a good night with friends. 
Tell me about the best and worst shows you have played.
The worst show was also the first show! It was terrible because the gear provided was just so shitty! And the sound sucked! We could not hear each other on stage and it was a mess! We also cleared the room even before we started to play! 98 % of the audience had cowboy hats and we don't…. BUT it retrospective it still makes us laugh! 
Best show so far is when we played bomber bar in Motala. Great audience, great sound and so on! The audience had listened to before the show and knew the songs, sang along and had a great time! And so did we! And its hard to forget the rocking backstage when we took a nap on the sofa and had tea together! Such a rock n roll band haha ;) 
Tell me about your favorite venue to play at, and do you have any places you want to play that you haven.t already?
Well as mentioned before Bombar bar is a great place! "lilla helfvetet" (little hell) in Mora is also a great place! They take good care of the bands and we really enjoy playing there! Hope we can go back soon. Places we would like to play is outside Sweden, that would be fun. Maybe do a little tour and have some fun. Also we haven't played in the capital Stockholm yet. 
If you could play any show with any lineup who would be on the ticket?
Fredrik: Me, Mattias "ia" eklundh, Anders and Jens Johansson. It would bee insane!
Jonathan: Slash, Brian Johnson, Angus Young and Fredrik Bergqvist
Björn: Dug Pinnick on vocals, Mike Portnoy on drums, Geddy Lee on bass, Nuno Bettencourt on guitar and me on air guitar!
What is some advice that you would give to someone who is just getting into playing in a band?
Play as much as possible together! There is nothing better then hanging out as a group and play together, learn how you work as a band, get tight and write songs. There are so many "youtube wannabes" out there that have skills that kill BUT do they work in a band situation? A band is more fun then being a solo artist. Look at Yngwie! He was best when they kind of were a band! After 1990 when he took full command everything went to shit….
If you could go back in time and give yourselves advice, what would it be?
PRACTICE!!!!! It is as simple as that! And learn how to do record music early on. 
Of your songs which one means the most to you and why?
Björn: For me a song like "your song" at least means something! Wrote it for my dog but I later realized it could mean things for other people, it could be about any love that's lost. 
Fredrik: Alive has a special place for me it has been around before D.I.G and reminds me of how long me and Björn have played music together. 
Jonathan: I would say Your song, because of the simple and genuine way its played.
Which songs are your favorite to play and which get requested the most?
Björn: I love to play "Think", its nice to sing and a fun riff to play. 
Fredrik: I love the intensity of the riff in "set us free" if that riff gets tough for me its really time to practice more! "Your song" has been requested here and there ,also an old song that just seem to live on!
Jonathan: That would be The mountain, mainly because of the superb drum solo at the ending of the song (live). Otherwise, Your song seems to be a favourite for the crowd
What is the creative process for the band, and what inspires you to write your music?
Well Björn is the main songwriter in the band and the creative process is like a rollercoaster. It´s hard to force yourself to be creative but sometimes songs can write them self. I (Björn) can get so inspired by listening to other music and seeing live shows! And also sometimes just noodling around on my guitar can be creative. 
What kinds of messages do you like to get across in your music?
We hope that people hear our music and think "does guys like to play"! that's important, to make people feel happy when hearing our music. Cause we feel blessed and happy that we can create music together!
Do you ever have disagreements in your band, and how do you get past them?
Björn: The simple answer is NO! D.I.G is such a drama free machine its funny. We just like hanging together. I´m sometimes called "stalin" by the other members as I can be picky in the studio and stuff like that but as mentioned before there is no drama. 
Fredrik: Not really we are quite grown up when it comes to the band and our music. we just talk things through. When we just hang out however we are extremly childish and stupid!
Jonathan: Well, I nicknamed Björn "Stalin", enough said? Jokes aside, I think the band chemistry is great! They've got the same sense of humour and there's no such thing as "boring" when practicing/hanging out.
What are your plans for the future, and do you have anything that you want to spotlight that's coming up?
We plan to record a new album as soon as possible! We got some great tunes on the way and then we would like to do some touring! We also try hard to expand our fan base so if anybody reading this feels like "does guys seem nice" please follow us on Facebook (www.facebook.com/digband) or YouTube (www.youtube.com/c/digtheband) Also our latest single "in the blink of an eye" could be worth checking out! We are proud of that song.