Discover more from Volatile Weekly
Interviews in the music industry from around the world
Interview: Gentry Blue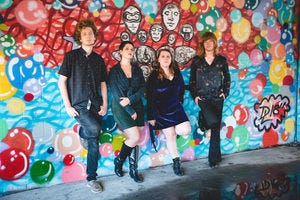 What got you into music, and if you had not gotten into music what would you be doing today? 
All of us started music at a young age-- either a certain artist or starting instrument lessons sparked the fire. For our guitarist, Travis, and myself (Lydia the singer/violinist), different iterations of the video game Guitar Hero helped fuel the fire. I'm sure that most of us would still somehow be musicians if we weren't mostly pursuing this path-- yet mainly pursuing just another creative outlet somehow. Three out of the four of us were high school theatre kids that were highly active in that community. That might've been a career path-- just in another life maybe!
What do you like to do when you are not playing music and how does that influence your creativity?
We're all nerds of some sort and that for sure influences our creative juices. Jo, our bassist, is a full-time graphic designer and lets animation and art influence her creativity. Travis is a fan of all things vintage, especially older movies or cars. I'm sure one can hear that in his guitar playing! Debo, our drummer, is quite the 'troll', if you will, and makes lots of memes in his past time. He plays some very hokey stuff during practice or when we go to a place like Guitar Center. For myself, I'm also a big movie buff like Travis and Jo. Reading or a long drive at night helps me reset and fuels my creativity.
How long has music been your career?
I can safely say for all of us that it's been since high school, if not before. Jo played bass and toured with the Kansas City, MO franchise of School of Rock as well as other escapades, Travis started his first band Revolution in Dallas, TX (now called The Revenant!), Debo was in professional musical theatre at a younger age and was in a band called Smokestack in the Baltimore, MD area, and I started a solo project called Violin Dragoness while I was in high school featuring live looped electric violin and vocals.
Tell me about the best and worst shows you have played.
In my opinion, they happened in the same venue! The End in Nashville is a magical place. But the first time we performed there (November 2019), we received extremely awkward and lukewarm applause. Most of the crowd left before we went on stage, too. It was very underwhelming. I thought our performance was just.... alright. It was acceptable, but we could have done better. The second show (February 2020) was several weeks from quarantine. None of the bands playing that night made any money, but it was so fulfilling. The audience was great, the performances by everyone were stellar, and it started snowing a lot towards the end! Of course, there was a snowball fight afterward, naturally.
Tell me about your favorite venue to play at, and do you have any places you want to play that you have not already?
The End in Nashville and The Legendary Kimbro's in Franklin are welcoming and fun places to perform. A few that we would love to play in the future are Exit/In and the Mockingbird Theater.
If you could play any show with any lineup who would be on the ticket?
Oh wow. To name a few: Phoebe Bridgers, Cellar Darling, Greta Van Fleet, The Killers, or Muse.
What is some advice that you would give to someone who is just getting into music?
There are a LOT of people that will put you down, no matter what you plan on doing. You have to get yourself in the mindset to ignore them and say you're better than that. It still stings, but you can go beyond what they think of you.
If you could go back in time and give yourself advice, what would it be?
Don't beat yourself up for not getting things super fast like others. Take things slowly, and allow things to change if it's not meant to be.
Of your songs which one means the most to you and why? 
Our song Cutthroat is lyrically the song I'm most proud of so far as well as the one that means the most to me. It ponders on why society can be so cruel at times, but at the same time, we are flexible people with strong hearts and minds that can overcome that. The world is so 'cutthroat', but we can't give up.
Which songs are your favorite to play and which get requested the most?
We cover Working Man by Rush and we close our sets with that most of the time. It's SO much fun and the whole band goes crazy every time we perform it!
What is the creative process for you, and what inspires you to write your music?
The creative process is very sporadic and inconsistent. Half of the time someone will come up with a neat riff or chord progression and we'll build on that. Lyrically, I have so many splices of lyrics that I put together and go from there to fit the song. Sometimes it'll be the opposite-- lyrics first, then melody.
What kinds of messages do you like to get across in your music?
Life is tough but everything is going to be okay, hopefully, in the end. We also have to be the bigger person. We have to mold ourselves to be tough to survive, and that's what counts in the end. We have to be there for one another.
Do you ever have disagreements when collaborating and how do you get past them?
Oh for sure. We simply don't let egos get in the way (we're not that type of band anyway), and we disagree openly when one of us isn't a fan of something. Things never get escalated and half the time we compromise or keep trying until something turns out great on both ends.
What are your plans for the future, and do you have anything that you want to spotlight that is coming up? We have our EP coming out everywhere online on April 22, and two music videos coming out after that! Follow us on Instagram, Facebook, TikTok and YouTube (search Gentry Blue) for more updates. We'll head back into the studio again soon!
Facebook: https://www.facebook.com/gentrybandrocks
Instagram: https://www.instagram.com/gentryblueband/
YouTube: https://www.youtube.com/channel/UC4utVEsz7jtq2kIe36WYWWw