Discover more from Volatile Weekly
Interviews in the music industry from around the world
Interview: Ghostatic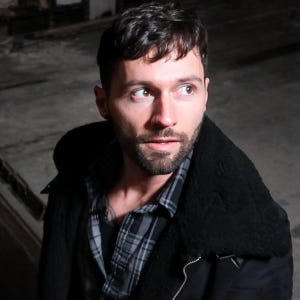 What got you into music, and if you had not gotten into music what would you be doing today?
 If it wasn't music, it would have been film documentaries.  I am currently in contract with a TV production company developing a show about the paranormal. Can't speak to much on that yet, but you will know when it happens!
What do you like to do when you're not playing music and how does that influence your creativity?
You can get a glimpse of what I do outside of music if you go to Ghostatic's YouTube Channel.  You guest it. It's about the paranormal. I've been to some fucked up places all over the world.
How long has your band been around?
It's brand new.  Literally. My first single dropped less than a month ago.  I'm going to release more but I might be working with a label on the next one.  It's always a process though so I'm caught between a rock and a hard place. Release something now without label support or wait?  I would like to know your thoughts on that.
Where are you based out of and how did that influence your music?
I'm, basically, from Cleveland.  The rust belt has a way of bringing the best and worst out of you.  Most of the music coming from my region is either HipHop or Metal with a few standout artists every once in a blue moon. Trent Reznor is from Youngstown(about an hour away), Maynard James Keenan is from Ravenna(about half hour away), and Marilyn Manson is from Akron(40 min from Cleveland).  Northeast Ohio breeds the dark, angry, and artistic.
How did you come up with the name of your band and what does it mean to you.
Again, going with the whole paranormal influence, it was brought on by a typo.  I was writing something about an old technique to tap into the paranormal world by pointing a video camera at a TV screen while it is running the video feed directly into the RCA jacks on the TV, essential creating a video feedback loop. I tried saying it would produce "Ghost static" but typed it out as "Ghostatic" so I rolled with it.
Tell me about the best and worst shows you have played.
Currently, Ghostatic is a studio project.  But I'm getting things together to make a live act for the summer.  In a previous band I played a show in, we had part of the stage collapse mid set. It could have been a lawsuit!
Tell me about your favorite venue to play at, and do you have any places you want to play that you haven't already?
The Agora in Cleveland is great. Generally speaking, I really want to take the live show overseas(I'm in the US).  There is more of an appreciation for unique music and entertainment there.
If you could play any show with any lineup who would be on the ticket?
It would be all over the place!  NIN, Rammstein, Deftones. I'd also like to play with my fav newer producers like Kill The Noise and Nero.
What is some advice that you would give to someone who is just getting into playing in a band?
DON'T DO IT.  Just kidding. Find your niche. Hone your skills to the point where you are uniquely great at whatever it is you do.  There is infinite competition out there. Pave your own path and break away from the norm. You earn more respect that way.
If you could go back in time and give yourselves advice, what would it be?
Pull out, always. Just kidding... I have no kids that I am certain are mine.
Of your songs which one means the most to you and why? 
I have an affinity towards all of them for one reason or another. Right now I have an unreleased song called No Turning Back.  I def feel that one. The hook is epic. I can't wait to share that one with everyone.
Which songs are your favorite to play and which get requested the most?
If I had more music out, I could more accurately answer that.  As for my first single, Violence, I've received a lot of great feedback. 
What is the creative process for the band, and what inspires you to write your music?
Solitude inspires me.  Getting into that uninterrupted headspace.  I tend to write complete songs in my head before I go ahead and record the ideas. It's hard to describe the process.  It just happens. Then I check what I have and edit the idea by making sure it doesn't sound like something else I have written or heard.
What kinds of messages do you like to get across in your music?
It's okay to be angry. It's okay to not be happy and accept the way things are in this world. Voice your opinion, whether it's politically correct or not.
Do you ever have disagreements in your band, and how do you get past them?
Only in my head! I am my own worst enemy.
What are your plans for the future, and do you have anything that you want to spotlight that's coming up?
This future is never certain. I have been talking with a couple labels but nothing concrete yet.  I can promise you more music and a live show very soon!