Discover more from Volatile Weekly
Interviews in the music industry from around the world
Interview: Indigo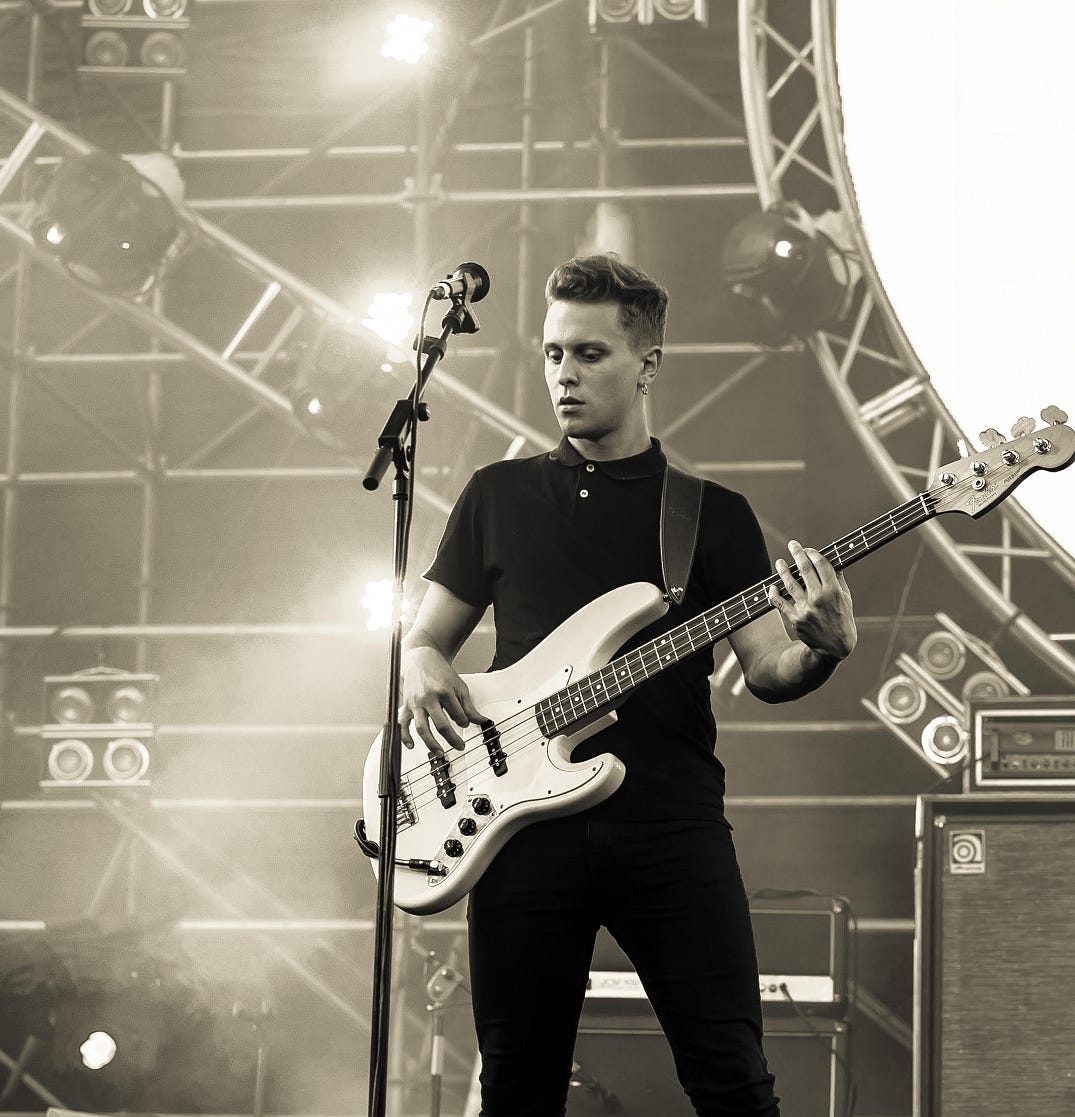 What got you into music, and if you had not gotten into music what would you be doing today?
Tristan (singer/guitarist): Well, the first time I really felt something for music I was about 5 or 6 years old maybe, and as we were attending to a concert with my parents for what we call in France « la fête de la musique », an event that takes place on every 21st of June where you can find some bands and artists playing everywhere in the streets, bars, restaurants etc for free, there were a band covering some Clash, The Police and stuff like that with a guy hitting the drums like hell so I started to tap on the table with my hands as I was enjoying it a lot! And also, I think it was some kind of way to tell my parents: « I wanna learn drums!! » (laughs)
Now if I wouldn't have been a musician? … Well.. I think we both dont wanna know as music is 100% of my life and really just.. yeah, saved my life, so.. hum, next question! (Smile)
What do you like to do when your not playing music and how does that influence your creativity?
Tristan: When I'm not playing music you can definitely find me « into the wild »! Nature has a GREAT impact on me. It calms me down, makes me think about almost nothing, so I can walk for hours listening to the birds through the smell of trees and flowers and, even though some lyrics often comes to my mind while walking, I wouldn't say that it inspires me a lot. It's more like an escape from my creative routine so I can later come back at it like, I've just purified myself and I'm ready to write again. It's important to take some breaks if I dont want my head to explode from too much thinking! (smile)
How long has your band been around?
Tristan: INDIGO has been a band since only a year and a half! We're still just like a little baby! 
Where are you based out of and how did that influence your music?
Tristan: We are based in Paris but the three of us comes from west of France where not much happens and where we do not receive the same big radio stations as Parisians do so, our musical references can be slightly different and also, as I grew up by the sea and have been into surfing and skateboarding as a teenager, we were all very influenced by some kind of Californian lifestyle, listening to Californian bands and I think you can definitely feel it while listening to our music as our songs are kind of sunny in a way.
How did you come up with the name of your band and what does it mean to you.
Tristan: Hum, well, it was one of these nights when I was thinking about waaay too much things and couldn't sleep! (laughs) I was thinking about the fact that I've always felt like almost an « alien » in a world so hard to understand and I've made some researches that night on the internet and found out about the Indigo's movement. Ignoring the fact that some people take it way too seriously, the so-called « indigos people » are people who don't feel like they really belong here, they are hypersensitive people, creative people, empathetic, interested in spirituality etc etc so it put a word on how I felt and I loved the way it sounded and, on top of that, indigo is also a wonderful color isn't it!? (laughs)
Tell me about the best and worst shows you have played.
Tristan: The best would be my first concert ever! We were some 16 years old kids covering the Smashing Pumpkins mostly and doing our first originals and we played in the middle of our school canteen for our friends and other students! It was a total blast!
Now the worst would maybe be when I accepted to play an acoustic solo show in.. a paintball reception! Yeah, I know.. (laughs). Of course I was skeptical since the beginning of that « adventure » I would say but the owner seemed cool and honest and he told me that lots of people would come so hey, why not?! But, yes, it turned out that almost nobody came and the guy paid me with: sausages.. YEAH! SAU-SA-GES! Oh my god (laughs)
Tell me about your favorite venue to play at, and do you have any places you want to play that you haven't already?
Tristan: I don't really have a favorite venue but my preference goes to clubs with a soul filled with friendly passionated people!
Now if I had a dreamed venue it would definitely be La Cigale in Paris. It's all about what I mentioned before and all the bests came there: the Red Hot Chili Peppers, The Arctic Monkeys, Muse, Nada Surf and the list goes on and on!
If you could play any show with any lineup who would be on the ticket?
Tristan: INDIGO opening for the early 90s versions of The Smashing Pumpkins and the Red Hot Chili Peppers. Damn.. I would shit my pants!! (Laughs)
What is some advice that you would give to someone who is just getting into playing in a band?
Tristan: Make music for nothing but passion, make sure you are surrounded by the good people, communicate with them as much as possible and.. don't drink and smoke while rehearsing goddammit!! (Laughs)
If you could go back in time and give yourselves advice, what would it be?
Tristan: Do it the same way my little man!
Of your songs which one means the most to you and why? 
Tristan: Probably « Darwin » as it represents how I had to adapt myself in a world I found so hard to fit in. It also gave me the idea of the artwork which is a salamander, so yeah, I would say « Darwin » and you know what? It's going to be the next single I think!
Which songs are your favorite to play and which get requested the most?
Tristan: We don't have a more requested song as our shows got cancelled because of the virus but the song from the EP that we prefer to play would probably be « The Last Romantic Boy on Earth ». There's something fun about playing it, kind of « hopping », and its a very sensitive song in the same time.
What is the creative process for the band, and what inspires you to write your music?
Tristan: I'm mostly inspired when I'm sad or angry about something, someone or some old souvenirs that I'm ruminating. The feeling I have on the moment instantly wakes up my creativity and then a song or few might appears right after that. Yeah.. the old romantic cliché of tortured souls! (Laughs) Then, even though I often come with some ideas for the other instruments, Alexis and Noé are very talented and creative musicians so they can bring something really interesting to my songs that I wouldn't have think of by myself. So I play them the song, just the guitar and the voice part, and then we try to create something with all our different ideas and when the three of us are happy with it, then the song is done!
What kinds of messages do you like to get across in your music?
Tristan: Messages of hope mostly. I want the people who suffers from some kind of hypersensitivity to find some hope in music and art in general, like I do and always tried to do. It's the best therapist! Also I have a recurrent theme about the fact that you must never give up to try to reach your dreams and goals. In a spiritual way I'm pretty sure that we have different lives but, this one is unique so we've got to use all the potential that we all have inside of us to accomplish what we were made for.
Do you ever have disagreements in your band, and how do you get past them?
Tristan: It's pretty rare, we are like the band I've always dreamed of: 3 simple, humble, smart and fun guys playing music together. But yeah, sometimes I get a bit angry when they dont answer quickly to my messages, mails and calls!! (Laughs) The best thing to do then is, once again: communication! .. Well, when they answer my calls of course!! (Laughs)
What are your plans for the future, and do you have anything that you want to spotlight that's coming up?
Tristan: So we just released an EP named « The Distance: part I » which is the first part of a full length record. You can find it on every platforms and you will also find us on YouTube with our music video for our first single « Like a Seed in the Sand ». We had so much fun doing it as I had to go on to sing and stare at the camera while being mistreated by my bandmates. Go find it on YouTube its really something! 
Next step we want to record the second part of the project this summer at our favorite studio Montmartre Recording in Paris (Woodkid, Lily Wood & the Prick etc), do another music video and play a f****** concert!!!