Discover more from Volatile Weekly
Interviews in the music industry from around the world
Interview: Indigo Storm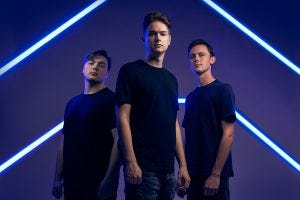 What got you into music, and if you had not gotten into music what would you be doing today?
CJ Jones (guitarist/vocalist):   I got my first guitar when I was 7 and was performing by the time I was 9.   I knew early on that I didn't want to perform as a solo artist - I wanted to be in a band with like-minded musicians.  I grew up in a home where music was always present – a lot of Alice in Chains, Sound Garden, and Pearl Jam. The first time I heard Tool was a revelation for me – the start of a relationship with progressive music.  
If I had not gotten into music I would probably be interested in film – media arts.
Ryan Slayton (drummer:  I guess you could say I became interested in music due to a combination of percussive genetics (my dad is a percussionist), and a video game where players learn to interact with plugged in instruments according to notes that scroll across the screen. I learned how to transfer the concepts to an actual drum set.  I participated in orchestra in elementary school and by high school I was playing in percussion ensemble, marching band and jazz band.  
I honestly have no idea what I would do if I hadn't gotten into music.  I was so surrounded by music my entire upbringing, that it just immediately became the only thing that I had ever seriously entertained doing with my life.  Nothing else has really jumped out at me I guess.   
David De Wolfe (bassist/vocalist):  The summer before my freshman year of high school, my best friend sent a video of him playing the worst rendition of 'Chapter Four' by Avenged Sevenfold  ever - but I sat in awe thinking it was the most righteous action on the planet. He told me I was going to pick up bass and that we were going to start a band. When I started playing it felt second nature, I loved playing. I quickly became involved in bands - first a thrash metal band, then a progressive metal band, then here I am with Indigo Storm.  
If I weren't in music I'd be in nursing since I kind of already am.  
What do you like to do when your not playing music and how does that influence your creativity?
We enjoy listening to all types of music, watching movies, and playing video games.  It is not unusual to take inspiration for creating original music from non-musical sources like film, literature, and visual arts.  
How long has your band been around?
We formed Indigo Storm in 2017.
Where are you based out of and how did that influence your music?
We are based out of Lexington and Georgetown, Kentucky with a healthy and diverse music community.  On any given night you can find live music to suit your preferred genre - be it Southern Rock, Blues Rock, Jazz, Country, Progressive Metal, etc.  We didn't feel compelled to fit into a cookie cutter band in order to participate in our home music scene.  
How did you come up with the name of your band and what does it mean to you.
"Indigo Storm" just seemed to be a good fit.  We are like three Indigo minds - curious, creative, and sometimes perceived by friends and family as a little strange.  
Tell me about the best and worst shows you have played.
Best show:  Opening for Nothing More and Bad Wolves at Manchester Music Hall in Lexington, Kentucky.  Worst show: Can't say we have a worst. We appreciate them all – for better or worse. Although we did a show without a kick pedal once and Ryan's younger brother acted as a human kick pedal. Great that he is a percussionist and knows our material.  Turned out to be a killer show – the crowd was into it and it showed we had perseverance. The show must go on. 
Tell me about your favorite venue to play at, and do you have any places you want to play that you haven't already?
Manchester Music Hall has been our favorite venue experience so far - but we also enjoy The Burl and Cosmic Charlie's in Lexington. We would love to play to a crowded arena – anywhere.   
If you could play any show with any lineup who would be on the ticket?
David De Wolfe (bassist/vocalist):  My dream line up would definitely have Nothing More in it; I would love to play a gig with them again.  Also Karnivool as they've greatly influenced what I consider to be good progressive music. Top it all off with Primus, simply because they'd put on such a crazy show it would oddly fit with the progressive rock and metal scene.  
CJ Jones (guitarist/vocalist):   What David said plus Deftones and Gojira.
Ryan Slayton (drummer:  Rush, Tool, Alice in Chains.
What is some advice that you would give to someone who is just getting into playing in a band?
Keep open lines of communication and don't let band politics come between you.  
If you could go back in time and give yourselves advice, what would it be?
Be patient.  The music industry runs on its own timeline.  
Of your songs which one means the most to you and why? 
We will be releasing the first single from our upcoming EP - "Metric" on February 3rd.  This release means a lot to us as it is the first song we are putting out since partnering with Grammy winning producer/songwriter Skidd Mills in Nashville.  We are proud to be part of Skiddco Music's roster and we are excited to share how our sound has evolved with this new EP and partnership.
Which songs are your favorite to play and which get requested the most?
Really, any of the songs on our upcoming EP are our current favorites.  We have been playing the EP live as we prepare for the release and have followers ask to hear the new stuff at subsequent shows.  
What is the creative process for the band, and what inspires you to write your music?
We write as a collective, each member creating their part.  Can't really say specifically what inspire us to write, but we are influenced by individual interests and of course life experiences. 
What kinds of messages do you like to get across in your music?
We feel most of our music themes or messages are self-describing.  Introspective.  
Do you ever have disagreements in your band, and how do you get past them?
Disagreements are not really a thing for us.  We genuinely have mutual respect for each other as musicians and as musical brothers.  You just have to keep the communication open.  
What are your plans for the future, and do you have anything that you want to spotlight that's coming up?
We are very excited about our partnership with Skiddco Music and can't wait for everyone to hear the new material.  Metric is the first single from the upcoming EP and will drop on all platforms February 3rd.  We have a Behind the Scenes and Lyric video for Metric that we hope everyone will check out as well.  Looking ahead - we plan to play shows, hopefully build our fan base, and keep writing music. We are musical brothers and indigo minds so the future looks promising.