Discover more from Volatile Weekly
Interviews in the music industry from around the world
Interview: Out of My Way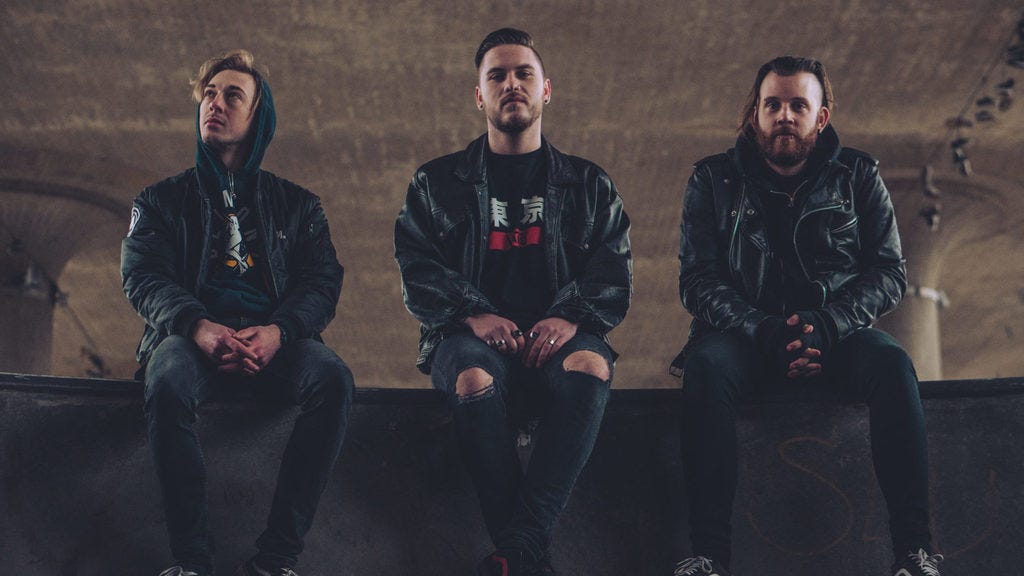 What got you into music, and if you had not gotten into music what would you be doing today?
That's a tough one. I remember the specific moment I decided to start playing music. I had been listening a bunch of 90's punk rock bands like Green Day, Sum 41, Fenix TX, blink-182 etc. for about a year or so when we night I decided to walk in to my sisters room to ask her if I could borrow her guitar. I sat down and started to jam along to "The Hell Song" by Sum 41. I had no clue what I was doing or how a guitar worked but from that moment I just kept on grinding and eventually learned how to play. I took lessons for a year or so and had a fantastic guitar teacher who actually introduced me to a bunch of cool bands like Rise Against and Bodyjar. Then he stopped teaching at that music school and all teachers after that sucked so I stopped taking lessons and just kept on practicing at home. /Christian
If I wasn't into music I would probably be doing something else that revolves around being creative. I am really into all sorts of digital creativities so I would probably be doing something like that. Lately I've been feeling really inspired to try out more physical crafts such as building small and simple interior stuff out of old junk. I always find new ways to get creative, that's just how my mind works. Long answer but yeah, I'd definitely be doing something creative. /Tobias
What do you like to do when your not playing music and how does that influence your creativity?
I like go to the skatepark with friends, drink beer and just hang out with good people and have a good time. Everything I do really inspires my creativity, both the good and the bad things that happen in life. /Tobias
I try to get some physical work-out done a handful of times a week, like casually going to the gym or going for a run. It helps with trying to combat stress and also makes me a better player behind the kit since staying fit and drumming go hand in hand. Other than that I like to find other outlets to decompress or fuel my creativity; be it through TV-shows, video-games, films or other forms of fiction. More than anything, listening to bands I love or discovering new ones do wonders for me when it comes to trying to take a stab at songwriting or rethinking things on the drums. /Charlie
How long has your band been around?
We started rehearsing during 2017 but officially announced the band in early 2018 when we dropped our first single "Why She Left". /Tobias
Where are you based out of and how did that influence your music?
We are based out of Stockholm, Sweden. We sadly don't have many big, reputable bands from there that closely resemble the sound we're playing so a vast amount of the artists we grew up listening to are from elsewhere in the world. The most noticeable band I could think of that we sound like would be Millencolin, how are still putting out great music even to this day!
How did you come up with the name of your band and what does it mean to you?
We were out drinking one night and I shot down the idea Tobias had suggested some week earlier. He pointed out to me that I hadn't come up with any suggestion myself. Which was completely true, haha! 
I think I sat there with my beer for almost 30 minutes in my own bubble just writing down whatever came into my head with Charlie and Tobias waiting beside me. 
I wrote down around 30 or 40 different suggestion, put down my phone in front of them and said: "Choose".
The name means that we're not here to please everyone. We're here because we love our music, because we deal with our life through music, because we speak out against what's wrong in this world and most importantly because there's a lot of people who enjoy what we do and hopefully even more in the future. /Christian
Tell me about the best and worst shows you have played.
The best show in my opinion was our releases how for our first EP "Whistleblower" (If you'd like to see what went down that night check out our music video for Built to Last which was filmed that evening). Everybody was just enjoying themselves, drinking beer and had a good time. It was a really small and intimate venue which made it all so much better. 
I don't think we've had any "bad" shows as of today. We always try to make the most out of every show we get to play but if I had to choose one it would probably our "sneak debut" show that not a lot of people knew about. The show took place at a venue that's really far off here in Stockholm and only a few people showed up. Good practice for our release show so not really bad in that way, but that's probably the "worst" in my opinion. /Tobias
Tell me about your favorite venue to play at, and do you have any places you want to play that you haven't already?
My favourite venue is definitely "Gula Villan" (translates to "The yellow house") which is located in a suburb just outside of Stockholm called "Handen". We've played that plays a bunch of times and it's just such a cool place. It's a small yellow house located in a forest. Inside it has a small bar, a really small stage and graffiti and old posters all over the walls. The place that has just underground DIY feeling, you know? The place has been around for about 40 years so a bunch of big bands and artists today started out playing that place which is really cool. The swedish state has been trying to tear it down for years for a bunch of bullshit reasons but everyone keeps fighting to keep the place alive since it's such an important place for underground culture. /Tobias
If you could play any show with any lineup who would be on the ticket?
Tough, could be basically every punk band there is. But I think I'd go with NOFX. Show wouldn't matter as long as the crowd is having a good time. / Christian
What is some advice that you would give to someone who is just getting into playing in a band?
Don't roll out your social media pages too soon. Make sure you have content lined up so you don't wind up asking for followers and "fans" when there's virtually nothing to be a fan of yet. Play as many shows as possible and keep grinding! /Charlie
First ask yourselves: "What kind of band are we?" Define the answer together. 
Set up goals and make a plan for both the short term and the long term. If you don't achieve them, don't worry. Analyze what worked, what didn't work and learn from it. But most of all: Enjoy it and have fun. / Christian
If you could go back in time and give yourselves advice, what would it be?
Don't be hard on yourself. You're doing the best you can. /Christian
Of your songs which one means the most to you and why?
"Why She Left". I was going through a depression and it came from all the pain I was going through. But in the end something good came out of it. When I'd finished Why She Left I was able to make music again and after awhile I had 7 or 8 songs. That was the starting point of Out of My Way.
"Privilege" also means a lot. It sums up my political view. I was very unsure about whether I liked it or not but Tobias and Charlie both told me it was really good so thanks to them it's the song I'm most proud of! / Christian
Which songs are your favorite to play and which get requested the most?
We typically don't get any recurring requests during our set but we've had family, friends and loved ones express a lot of adornment for "Why She Left", which was the first track we put out. I'm guessing it's because they feel like it's a good sing-along number during live shows, haha! /Charlie 
What is the creative process for the band, and what inspires you to write your music?
Mostly we write music and lyrics individually and then present it at rehearsals. Then all of us come with inputs and ideas and we try them out until we're satisfied.
I'm inspired by people, views or attitudes that piss me off. Anything I'm too kind to say to your face, haha. / Christian
What kinds of messages do you like to get across in your music?
We always try to spread a message of positivity during trying times and be candid about stuff we're currently feeling or going through at the time. Though we're not a political band we do tackle a handful of socio-political issues and always try to write about things that are intensely personal to us at the time. /Charlie 
Do you ever have disagreements in your band, and how do you get past them?
We disagree a lot sometimes but we've been friends for a long time and learned to compromise. / Christian
What are your plans for the future, and do you have anything that you want to spotlight?
We're releasing every song from EP "What Can I Say?" this year as a single with music videos to every song and latest single is "Suburban Fights" and there's more to come! The first single from "What Can I Say?" was "Perfectly Happy" and the video was produced by David Andersson who is absolutely phenomenal! It captures the spirit of the song really well. He's also made videos for Privilege, Built to Last and Why She Left, all very different from each other (Why She Left is cartooned, ffs!). You can check them all out on youtube-channel. / Christian