Discover more from Volatile Weekly
Interviews in the music industry from around the world
Interview: Stone Sea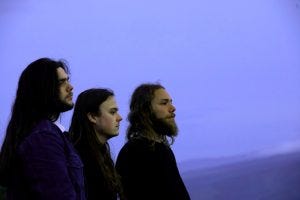 What got you into music, and if you had not gotten into music what would you be doing today?
We all grew up around music, our parents all loved music so it was bound to have an impact on us. Bands like Black Sabbath, Rage Against The Machine, Type O Negative, and so many others shaped our specific music tastes.
It's very difficult to think about what we'd be doing if not music! Elvis (guitar/vocals) has a degree in Event Management and Music Production, Jonathan (bass) was going to study Forensic Chemistry before changing his mind and studying Music, and Connor (Drums) would definitely be a professional pool shark.
What do you like to do when you are not playing music and how does that influence your creativity?
Aside from being bandmates, we're really close friends too. We're constantly meeting for food, spending hours in a pool hall, just hanging out in general!
Our personal friendships outside of our band definitely mean we enjoy writing our songs more than if we were just bandmates. And as a result, we enjoy playing gigs together and give each other great energy on stage.
How long has your band been around?
Stone Sea was formed in 2015 in Sao Paulo, Brazil by our guitarist and vocalist Elvis Suhadolnik Bonesso. Shortly after however, he moved to Dublin, Ireland and reformed Stone Sea as a 3 piece. The band recorded two EPs, 'Vaporizer' and 'Mankind Maze', released in 2017 and 2019 respectively. Stone Sea underwent a lineup change in 2019 which saw the introduction of Connor Middleton (drums) and Jonathan Parminter (bass).
Where are you based out of and how did that influence your music?
Connor and Jonathan are both from Dublin, and Elvis is from Sao Paulo. Connor has been involved in the heavy music scene in Dublin since the age of 15, he grew up with Rock and Metal. Elvis being from Brazil has an impact on Stone Seas sound, as we often incorporate elements of Bossa Nova and World Music into our sound.
How did you come up with the name of your band and what does it mean to you.
The name Stone Sea is comprised of two words that oppose eachother completely. 'Stone' represents elements in life that are steadfast and constant, whereas 'Sea' refers to all that is mysterious and ever-changing. We try to reflect these ideas in our music, blending powerful overdrive riffs with lysergic melodies and sounds.
Tell me about the best and worst shows you have played.
We're pretty lucky in that it's easier to think about our best gig than our worst, not many bands have had the same luck! The title of our best gig is between closing the Kasbah Stage at 2019's October Siege of Limerick festival, and the launch of our EP 'Mankind Maze' in November of last year. The energy from the crowd at both of these gigs was incredible.
Tell me about your favorite venue to play at, and do you have any places you want to play that you haven't already?
'Sin E' in Dublin is a great venue. The stage is low enough to really interact with your audience while you're playing, every time we play there we can't stop smiling!
As for future gigs, we'd love to play everywhere! We're really working towards sharing our music to different locations and territories, and we're really looking forward to doing so!
If you could play any show with any lineup who would be on the ticket?
Damn... Its hard to narrow it down! Definitely Black Sabbath, there isn't a single Rock band on the planet that isn't inspired by those guys. Type O Negative is another big inspiration along with groove legends Pantera! So we'd probably jump in a time machine and travel back 25 years and play with Sabbath, Pantera, and Type O Negative!
What is some advice that you would give to someone who is just getting into playing in a band?
To never forget why you want to be in a band. Whether you just want to have fun with your friends or you want to make a living from music, you're ultimately in a band because you love music.
If you could go back in time and give yourselves advice, what would it be?
Free yourself from "trying to be something or someone" and just be what you are. Don't narrow your tastes because of musical genres and its scene. Music is about freedom of self-expression, not self-affirmation.
Of your songs which one means the most to you and why? 
The second song on our new EP 'Mankind Maze'. It's called 'Flow Upstream', and the reason it's so special to us is because Elvis's mother sings the bridge section in Portuguese. To have someone so important to you involved in something you're so passionate about is truly special. What's more is that when we perform 'Flow Upstream' live, our bassist's girlfriend sings that verse, which makes the song even more important to him. It's one of our favourite songs to play.
Which songs are your favorite to play and which get requested the most?
We love playing all of our songs, but for different reasons. 'Prelude' from our newest EP 'Mankind Maze' is a hard rock song with a Brazilian Bossa Nova feel to it, it's impossible not to smile while playing that song! 'Seeking Time' from our EP 'Vaporizer' is a really fun song to play, it's absolute heavy madness and never fails to make the crowd go insane! We love seeing people react like that to our music.
What is the creative process for the band, and what inspires you to write your music?
Most of our songs are about society, the nature of the universe, and human thoughts and emotions. These are the themes of our music and inspire us to write music. Usually one of us will bring an idea to the other member, and the others add to it, so we all have our stamp on each song.
What kinds of messages do you like to get across in your music?
We write a lot about society and the way people think, so what we want people to understand when they listen to our music is that they are capable of intricate and incredible thoughts and ideas. The mind is far more powerful than people may think!
Do you ever have disagreements in your band, and how do you get past them?
Never anything too serious thankfully! We have a clear goal for our band and all pull our weight to grow our band. Communication is so important in a band, everything needs to be talked about or else tensions rise and people fall out.
What are your plans for the future, and do you have anything that you want to spotlight that's coming up?
We're taking part in Ireland's 'Metal2TheMasses' competition on the 14th of March. The winner of the competition gets to play at Bloodstock Festival in the UK, which would be absolutely mind-blowing!
We're also working on a new album which we're hoping to release towards the end of the year.