Discover more from Volatile Weekly
Interviews in the music industry from around the world
Interview: The Unsung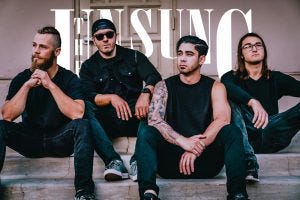 What got you into music, and if you had not gotten into music what would you be doing today?
(Thomas) I've been playing music as long as I can remember - some of my first memories are when I was taking piano lessons when I was 3 years old. If I never started playing music I would probably be playing way more video games.
What do you like to do when you're not playing music and how does that influence your creativity?
When I'm not playing music I'm usually eating, learning something new, playing my favorite sports, or hanging out with friends and family. Creativity suffers if you're not keeping healthy and well rounded. 
How long has your band been around?
The Unsung began writing our first EP and playing shows in 2015. 
Where are you based out of and how did that influence your music?
We're each in a different city all around Southern California. Our singer Tyler is from Chula Vista in southern San Diego, our drummer Garrett is from Ramona in northern San Diego, our guitarist Devin is from Riverside and I am from Huntington Beach. It causes our sound to stay diverse since we attend separate shows and have different networks exposing us to music.
How did you come up with the name of your band and what does it mean to you.
Our friend Eddie Melendez recommended creating a name about being nameless, because we had spent hours in the practice room arguing about names and nothing sounding good. The Unsung stuck. It's a testament to not letting labels convolute our art. 
Tell me about the best and worst shows you have played.
Our worst show was when our guitarist's laptop crapped out right before we took the stage, so we didn't have any of our backing tracks and our drummer didn't have a click track in his ear. We also had to contact the bar owner for mics, cables, and navigating their horrifically designed "PA System" that not even seasoned professionals could figure out.
Tell me about your favorite venue to play at, and do you have any places you want to play that you haven't already?
Our favorite venue to play at is Chain Reaction. So far every show we've played there we've stage dived. We would love to play Madison Square Garden, in which our guitarist will light his math degree on fire on stage.
If you could play any show with any lineup who would be on the ticket?
Periphery, Beartooth, Sum 41, and Maurice Ravel.
What is some advice that you would give to someone who is just getting into playing in a band?
When you make friends with other bands, don't be afraid to ask them how they do things. Immerse yourself in new experiences and you'll quickly pick up what you don't know yet. 
If you could go back in time and give yourselves advice, what would it be?
Join a band sooner, and stay in it.
Of your songs which one means the most to you and why?
Our soon to be released single Awake is relatable to all of us, and hopefully many listeners. 
Which songs are your favorite to play and which get requested the most?
We love playing our most technical and progressive song Disconnected. Lacuna seems to be a big hit with everybody's moms. 
What is the creative process for the band, and what inspires you to write your music?
The instrumentalists contribute pieces of riffs and song structure until we form a solid instrumental song. Then our singer digs deep and works his magic on it. 
What kinds of messages do you like to get across in your music?
Our lyrics are often about the positive perspectives that prevail through tough times. We like to write songs about hope. 
Do you ever have disagreements in your band, and how do you get past them?
Sometimes we do disagree about decisions for the band, but most of the time we have a majority rule voting system that we respect and acknowledge is used for the greater good of the band. Sometimes though we need to decide on big decisions unanimously. 
What are your plans for the future, and do you have anything that you want to spotlight that's coming up?
We want to tour outside of Southern California and reach as many fans as we can while earning new ones with unforgettable performances. We're very excited to release our newest single and music video. Be on the lookout for Awake by The Unsung!