Discover more from Volatile Weekly
Interviews in the music industry from around the world
Interview: Tradmrkd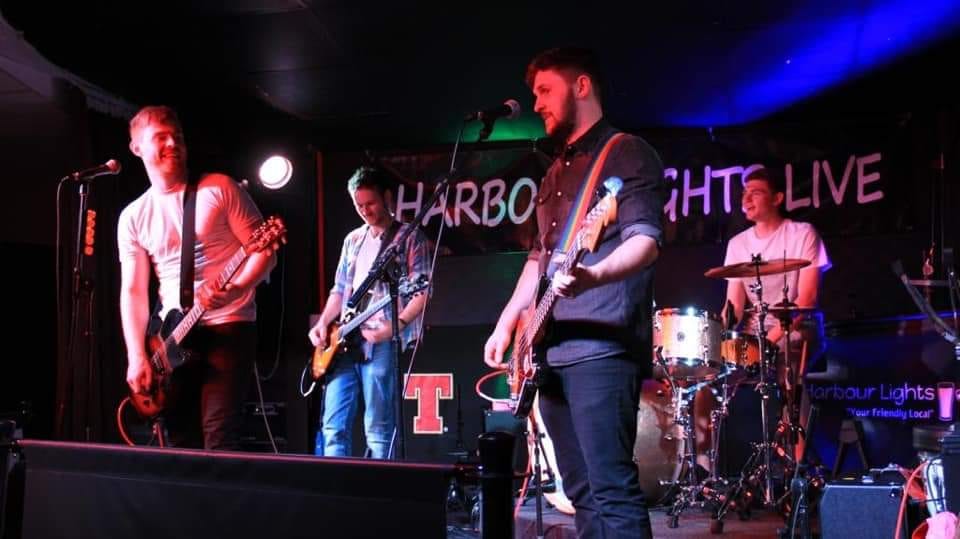 I'm Eddie Flinn from Tradmrkd and I am here to answer your questions. Lets go…
What got you into music, and if you had not gotten into music what would you be doing today?
Walking into a family friends house when I was 7 or 8 and seeing the hand holding a heartgrenade poster of Green Days, American Idiot. That was when my love for music began and I have never stopped loving it. I'm currently in University so if I hadn't got into music I might end up in a boring dead end job!!  
What do you like to do when your not playing music and how does that influence your creativity?
I like to keep busy, so I give myself many hobbies, I play football, video games and university work. I think doing course work gives me the most creativity because I am trying to find ways to procrastinate; this seems to be when I get a lot of my ideas, when I should be working.
How long has your band been around?
Bands been around since 2014. It began as a muck about with mates just wanting to enjoy playing music. Badly. Very, very badly. We became serious with it in 2018. So the band has been about for 6 or 7 years. The current line up of, Finlay Cardno, James Riddoch, Corey Finnie and Myself has been since late 2018. It was Finlay and I who began the band in 2014 with our mates.  
Where are you based out of and how did that influence your music?
We are based in Aberdeen in the North East of Scotland. We are originally from little villages scattered around Aberdeenshire. It just made so much sense to move to the city as out in the country there are very little opportunities to play gigs. I wouldn't say it influences our music too much. The area I was from Punk was not a desired genre to listen to. Everyone at my school listened to what was in the charts and never really drifted from the generic sounding songs. So being an outcast in a musical sense was more of an influence.   
How did you come up with the name of your band and what does it mean to you.
We struggled to find a name we liked. I think Finlay came up with Trademark and that was what we decided on at first, until we realised that the name was taken by an orchestral band. So, we had the brain wave to just add an ED at the end and create Trademarked. To make it look cooler and shorter, we got rid of all the vowels except the A. Hey presto, Tradmrkd. 
Tell me about the best and worst shows you have played.
I wouldn't say the show was terrible, but our first show we played in front of literally no one. It was in a local pub from where we were from, and we played to the regulars who bothered to come through to the lounge. At the same time it was our best because it was our first ever gig. 
Tell me about your favorite venue to play at, and do you have any places you want to play that you haven't already?
Tunnels in Aberdeen has been the best venue so far to play at. It is so tight and compact, that with a good crowd the energy is indescribable. There is 2 places I would love to play, one is St Luke's in Glasgow and the second is 924 Gilman Street in Berkeley California. The holy grail of east bay punk.  
If you could play any show with any lineup who would be on the ticket?
I have always said that the greatest show to have ever been played would be, 90s Green Day, Nirvana and Foo Fighters. I'm sure Dave Grohl wouldn't mind playing in two slots. I would even push it and put Slipknot in that bill. Add more diversity and f**king awesomeness. I would have a hard on opening that show.   
What is some advice that you would give to someone who is just getting into playing in a band?
Enjoy playing with your friends. Who cares if people say you suck, you are meant to sound terrible. Every band began somewhere, you just need to gel with each other and that takes time and practice. Enjoyment is the main thing, if you don't enjoy doing it, don't do it.
If you could go back in time and give yourselves advice, what would it be?
Start the seriousness of the band earlier. I wish we began way earlier than we did. It we began 2 years older who knows where we would be by now. 
Of your songs which one means the most to you and why? 
There are a few songs that are really close to me, but I would have to say a song called Diddy. We haven't released it yet but it's a good album ender. It can either be acoustic or played with a band, it has that potential. As of why it means the most to me, I wrote the song about growing up and get rid of the waste of spaces that are in your life and also wanting more freedom from your parents. But realising that there is only certain amount of control that you can have in your life and at some point you are going to lose the ones that you love. So, having your own freedom is great but don't alienate yourself from those who love you and you love cus who knows how long we got left.   
Which songs are your favorite to play and which get requested the most?
My favourite song to play is a song called Cactus. We will hopefully have that demo released soon for people to hear, then you will understand why I love to play it. It's a fast pace song about releasing you f*cked up with a girl who was perfect, but you were too young naive to notice. As of most requests, our song Leanna is requested most. You can listen to that one on our SoundCloud/Tradmrkd. 
What is the creative process for the band, and what inspires you to write your music?
As a band we have been writing a few songs together, mostly by stumbling across rifts. For our current work it has predominately written by me over the years. Anything and everything inspires me. I love looking up fancy words and phrases and try make a song out of them. It could be stuff that is happening around me or something I read in a book. I take inspiration from everything. I wrote a song called Pendulum about how clumsy I am and how it seems to happen over and over again.  
What kinds of messages do you like to get across in your music?
We don't really aim to get any messages across in our music. I always tell people to interpret the music how they want. There is no fix meaning to song, one song for someone could mean completely different for another person. It's all a matter perspective.  
Do you ever have disagreements in your band, and how do you get past them?
We get the paddling pool out, fill it with baby oil, strip naked and wrestle. The winner decides what we do. Either that or they gang up on me and do what they want, they've taken away a lot of my rights!! Nah in all seriousness, we are pretty coherent and have a clear understanding of where we all want to go with the music and the band. 
What are your plans for the future, and do you have anything that you want to spotlight that's coming up?
Everything is up in the air right now so there is nothing concrete. However, the future is looking very promising. A lot of shows are lined up and maybe some festivals on the horizon. The best way to stay updated with us is liking our Facebook page, Tradmrkd and following our Instagram: Tradmrkd.tm.