Discover more from Volatile Weekly
Interviews in the music industry from around the world
Interview: We're All Aliens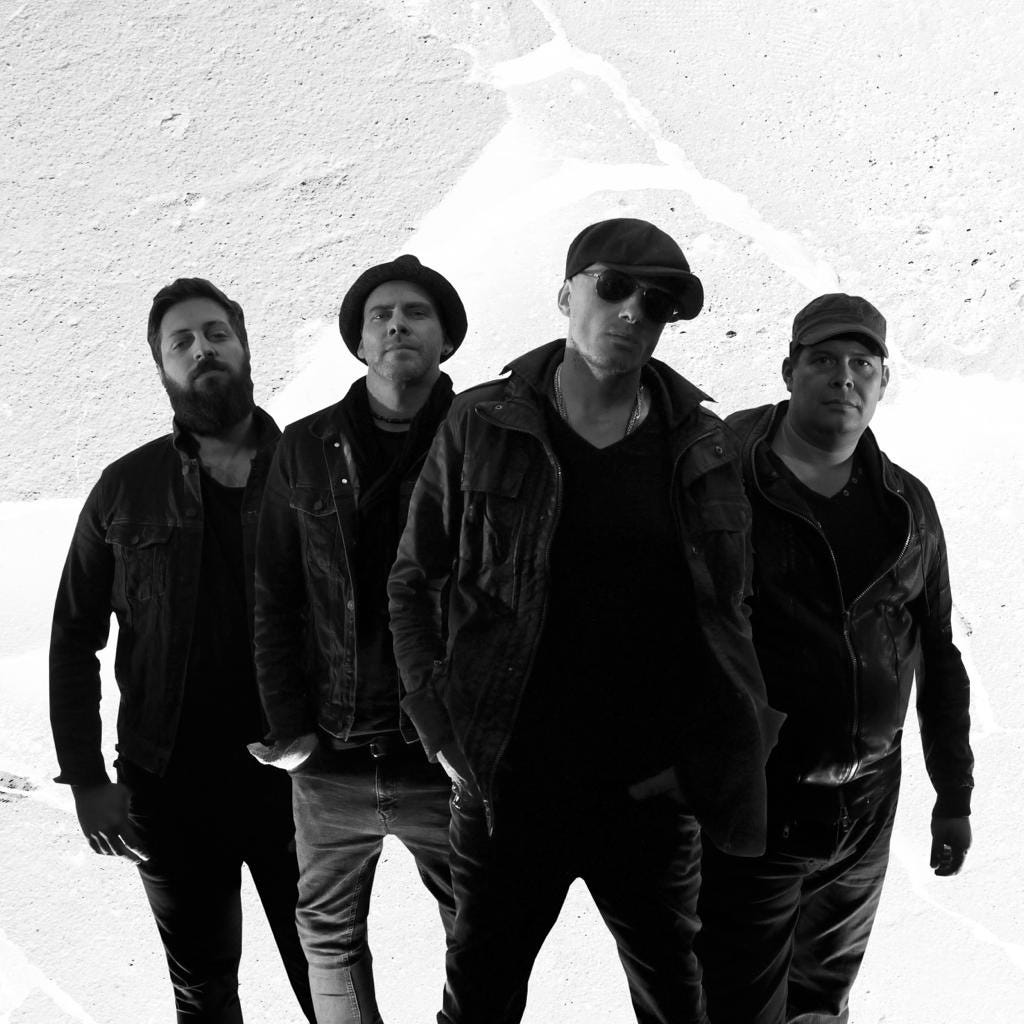 What got you into music, and if you had not gotten into music what would you be doing today?
This is an interesting question in as much as I was sorting through my loft the other day and found a piece of paper that my mum had kept from my time at infant school when I must have been given the task to write about what I did on the previous Christmas Day and I'd written that we'd had lunch and then listened to my new record, so in that sense I must have had music on my mind from a very early age and have certainly been collecting music since I was about the age of six.  I knew from the age of about fourteen that I wanted to be in a band and just needed to find peers that felt the same way.  That happened about two years later but from then I was hooked.  If I'd never got into music, I'd still be involved in some way, maybe as a DJ?  But I think the reality these days is that even the most successful artists out there have other projects and interests and I don't think we're any different in that respect as a band. We all have families, partners, children, dogs etc.  The music is inspired by the things that we do when we're not making music.
What do you like to do when you are not playing music and how does that influence your creativity?
I'm a keen reader and I'm particularly into biography and non fiction as opposed to novels and stories.  I tend to get my fictional escapism from a binge watch box set with my wife before bedtime and other than that I enjoy hanging out at home with the kids and our two dogs, Sergeant & Pepper.
How long has your band been around?
Officially we formed in 2019 which was when we released the first single 'I Am An Alien' and recorded the 'Get A Life' album, but myself and Biff had been working on the project for about four years prior to that.
Where are you based out of and how did that influence your music?
Technically we are based in Merseyside because that's where we all met.  The reality is that the album was recorded at Neon Palms studio in Northwich in Cheshire where the River Mersey meets the River Trent and River Weaver and our base of operations remains there.  But, Laurent our bass player lives in Paris and myself and Biff live 'over the water' on the Wirral or 'New Jerseyside' as I like to call it in homage to Sinatra, Springsteen and Bon Jovi who found themselves on the less cool side of the River Hudson.  The sense of place is less important to our music as it might be to other bands but in the words of a very famous song from our region "this land's the place I love and here I'll stay."
How did you come up with the name of your band and what does it mean to you.
I'm reluctant to divulge the meaning of the band's name so I'll paraphrase another Merseyside artist when pressed for the meaning of his band's name.  A man came down on a flaming pie and said "you are Alien's (as we all are) but with an apostrophe.  And you will be committed to rock'n'roll with apostrophe's in the correct place.  Because grammar and punctuation is more important than ever.  Even though it will make it more difficult to find your band on the internet."
Tell me about the best and worst shows you have played.
It's still early days for our band and to be honest, we launched the album in February with gigs in the diary and then the whole pandemic has turned the world on it's head.  But we did play a killer fundraiser in Northwich where we headlined the Plaza venue in aid of the local market traders fire just prior to lockdown which was great.  Prior to this band we've all played bad 'one man and his dog' style gigs but done some great stuff too.
Tell me about your favorite venue to play at, and do you have any places you want to play that you haven't already?
So many live venues are closing and so rapidly that mentioning one that isn't currently under threat would be a challenge right now.  I have lovely memories of playing Telford's Warehouse in Chester, partly because it was such a great place to hang out and the crowd always remain super receptive to a wide variety of genres of music.  Playing open air in the grounds of the Anderton Boat Lift in Northwich too was great as you had this amazing historic Victorian steel structure as your backdrop.  I have an ambition to play the Apollo in Manchester, again because I've seen some of the best gigs ever in that building.  Prince pulling a front row audience member out of the crowd making them exchange their space with someone at the back, then tricking them and inviting them up on stage to watch the show from his personal harem!  Or recently Lenny Kravitz at the beginning of his Raise Vibration tour a couple of weeks after seeing the Stones so disappointing at Manchester United's ground and the lack of intimacy.  I'd love to play the Brixton Academy too.  Another perfectly sized venue full of history.  Skunk Anansie in the Summer 2019 will live long in the memory.  All those gigs I saw with my wife who is a long suffering companion at gigs and by no means as into music as me.  But she's also a way better barometer and if she has had a great time, I know its been a good night.
If you could play any show with any lineup who would be on the ticket?
If by this you mean who would be on my celebrity festival line up, I'd have Prince with The Clash as special guests.  I think that would work and We're All Aliens would fit in fine.  I'd be honoured to open for that bill.  Plus it'd mean I'd get to see Strummer & Jones together and Prince one more time who I still can't believe is gone.
What is some advice that you would give to someone who is just getting into playing in a band?
Robert Smith from The Cure famously said "identify the guy who is least committed to what you're trying to achieve and replace them.  Then find the guy next least committed and replace them. And so on."  
If you could go back in time and give yourselves advice, what would it be?
Listen instead of talking.  And don't assume that someone's advice is any use just because they are older.  
Of your songs which one means the most to you and why? 
Of the songs on the 'Get A Life' album I think its probably 'Get A Life' itself.  Its the first one we worked on and whenever I hear the opening riff, I still can't believe that's the sound of my band.  Plus, I think some of the lyrics are really strong in their simplicity. "Don't go chasing the path of least resistance, fortune favours all the bravest souls.  You can take a lifetime to achieve all the things you do believe, look for the truth if that's your goal."  I'm very proud of that statement.
Which songs are your favorite to play and which get requested the most?
'Second Chances' is a crowd pleaser because of the coda and Rosa Lee is definitely our most popular currently.  We really enjoy playing 'Where Do You Stand' live as it has lots of groove about it and we do this bit in the middle where there is room for going off the grid in terms of improvisation and incorporating bits from other songs such as The Who's 'Magic Bus,' 'Need You Tonight' by INXS and 'Sign O' The Times' by Prince.
What is the creative process for the band, and what inspires you to write your music?
Songs tend to start with me or usually Biff coming up with a part that we hammer out into lyrics and melodies.  We throw around arrangements and depending on how far they get present them to the band for recording.  I get very inspired by what Biff is doing and luckily he then gets similarly into the creative response that I provide.  In that sense there is a definite similarity to the way a lot of well known partnerships kick off the process like Mick & Keith etc.
What kinds of messages do you like to get across in your music?
I'm cautious to guard against singers and bands having big ideas about the world but I think a lot of the themes on the Get A Life album are about the fragility of humanity and the safe spaces that people scurry off to in times of trouble.  In a world proliferated by accusations of 'fake news' I think the songs encourage the listener to think for themselves and look harder for the facts of a matter.  Facts and science are so much more important than opinion and confirmation bias.
Do you ever have disagreements in your band, and how do you get past them?
Mostly around who played something wrong and the correct way to play a song.  We get past these issues when everyone is happy with the song.  Then we maven to the next disagreement! LOL.
What are your plans for the future, and do you have anything that you want to spotlight that's coming up?
I think the band that doesn't admit that the world has turned upside down as a result of the pandemic is telling fibs and clearly a new band that released their debut album in February 2020 is going to find it harder to maintain awareness without gigs in the diary.  Our plans have been affected by both this and the fact that Laurent live in Paris and no one is travelling.  We actively chose not engage with the bedroom zoom gig culture that has emerged because we just don't think it works for our band and we are still building the audience in its first phase.  With this in mind the plan is to continue to make some creative video content around the remaining songs on the Get A Life album and then drop the first fruits of the second album in the late summer, early autumn.  The second album is really the sequel to the first album and we had already taken the decision to release them within twelve months of each other, without overbearing the new listener with too much content that they don't know. The 'Get A Life' album is mercifully short at eight tracks and 30 minutes in length, just the way albums used to be made.  I think in the meantime I'd urge all your readers to follow the band on our socials @allaliensmusic and stream the hell out of the Get A Life album as it really helps promote the conversation and algorithm.  Follow, like, share. Repeat.